FRINGE LAB: It's Time to Talk Climate! June Programme Announced
18 May 2021
FRINGE LAB continues to add to your artistic toolkit! Let's talk creating work in and about the natural world, while keeping sustainability at the core of your practise.
This June, we are bringing you two opportunities to connect with artistic peers on ways to introduce sustainability into your work, to address climate change in your artistic output and to invite your audiences to explore the natural world with you. We've connected with artists who are leading the Irish conversation in these fields: writer, director and climate activist Maeve Stone, will facilitate both an open forum conversation and one-on-one discussions through 'Working It Out: Climate and Sustainability in your Practice' and theatre-making duo and FRINGE LAB Resident Artists Luke Casserly & Shanna May Breen are inviting you to join them for 'Walking It Out: Site Specific Performance in Nature'. You can find more details on each of these opportunities below.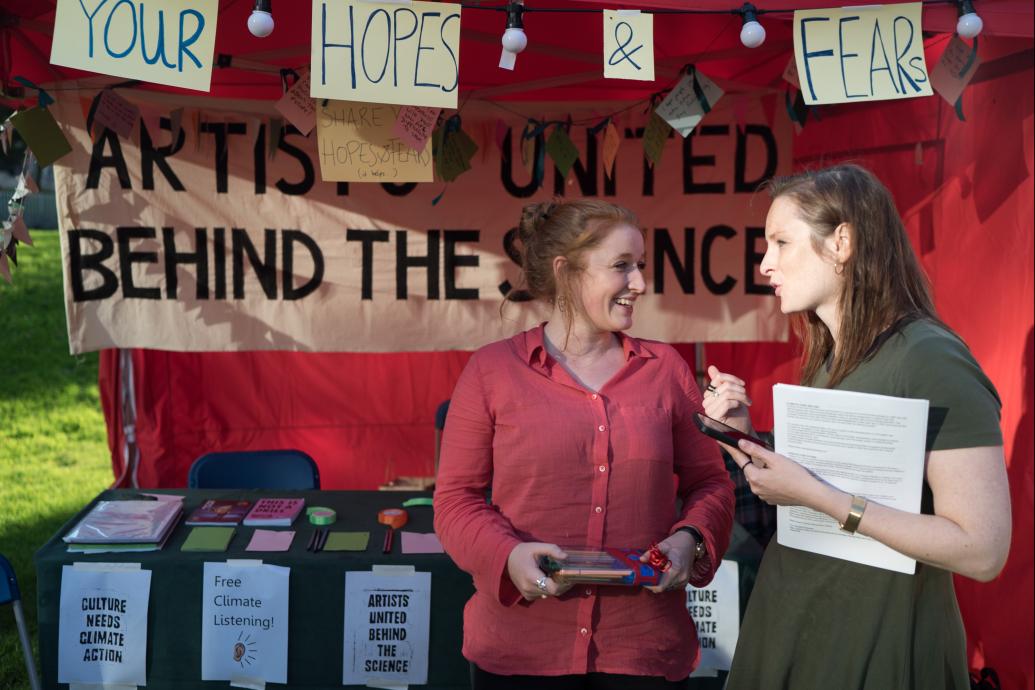 Working It Out: Climate And Sustainability In Your Practice
Presented by Maeve Stone
We've teamed up with writer, director and climate activist Maeve Stone to lead a discussion on climate and sustainability. She'll be questioning what the role of artists in the climate conversation is, and how artists can place sustainability and adaptability at the core of their practise.
Do you have a project tackling themes of climate change? Maybe you're thinking of making your practice more sustainable? Whether you're someone who has been thinking about these things for ages or someone who'd like to take the first step, this is a chance for you to get involved in the conversation.
This support will take place in two ways, through both an open forum conversation hosted by Maeve during our monthly Elevenses at 11am on Friday 28 May and through a series of one-on-one conversations with artists on Tuesday 1 June.
Maeve will be offering one-on-ones to talk through artistic projects dealing with climate issues and/or strategies for integrating sustainability into your practice. She's here to ask useful questions, talk through particular concerns or creative struggles, and lend an outside eye. If you are interested in signing up for a one-on-one, we also ask that you attend Friday's Elevenses. Elevenses is a drop-in event and open to everyone. Follow link to join (Zoom). Passcode: 084931
Sign up for our one-on-ones here. Places are strictly limited. Once confirmed we'll ask you to answer a few short questions about your project ahead of the meeting.
About Maeve Stone
Maeve is a director / writer for film and theatre whose work responds to issues of climate, and revisits the canon with a feminist lens. She is project lead for axis Ballymun's PopUp Green Arts Department facilitating a series of events that reach out into the community and raise awareness of environmental issues. Maeve is a Platform 31 artist focusing on climate and biodiversity in County Clare and is also an embedded artist for a European Cultural Adaptation project which asks "What is the role of the artists in Climate Adaptation" working with Codema (the energy agency for Dublin) and Axis Ballymun from September 2019 to March 2021.
Previously Assistant Director at The Abbey Theatre in 2012 before becoming the first Associate Director with Pan Pan Theatre Company, she lectures in Trinity College Drama and Theatre Department. In theatre most recently she made an interdisciplinary work called Bodies of Water with Eoghan Carrick and visual artist Jonah King at Fringe 2019.
Walking It Out: Site Specific Performance In Nature 
Presented by Luke Casserly & Shanna May Breen
Interested in making work concerning the natural world in new and radical ways? FRINGE LAB Resident Artists Shanna May Breen and Luke Casserly invite you to join them for a one-to-one conversation to talk through modes of formal experimentation and ways of incorporating nature into performance.
Your half-hour conversation will take you on a walk in nature with Luke or Shanna: beginning under a tree of your choice, Luke or Shanna will then call you via video call to go on an informal walk in nature and share ways of thinking about making work outdoors and concerned with the environment, as well talking out any creative sticking points or concerns.
Places are limited. The sessions will take place on Tuesday 8, and Wednesday 9 June from 10am – 3pm. To apply for a place, sign up here. This workshop will be delivered online. Attendees will need access to Zoom on a smartphone with access to wifi/data and headphones. 
About Luke Casserly & Shanna May Breen
Since 2019, Luke and Shanna have worked together as an artistic duet creating work concerned with the natural environment. They are currently FRINGE LAB Resident Artists. They have previously presented work at Dublin Fringe Festival in 2019 (Mould Into Shape) and 2020 (1000 Miniature Meadows).
You can see more about their individual practice here. This workshop is part of our Resident Artist Conversation series.