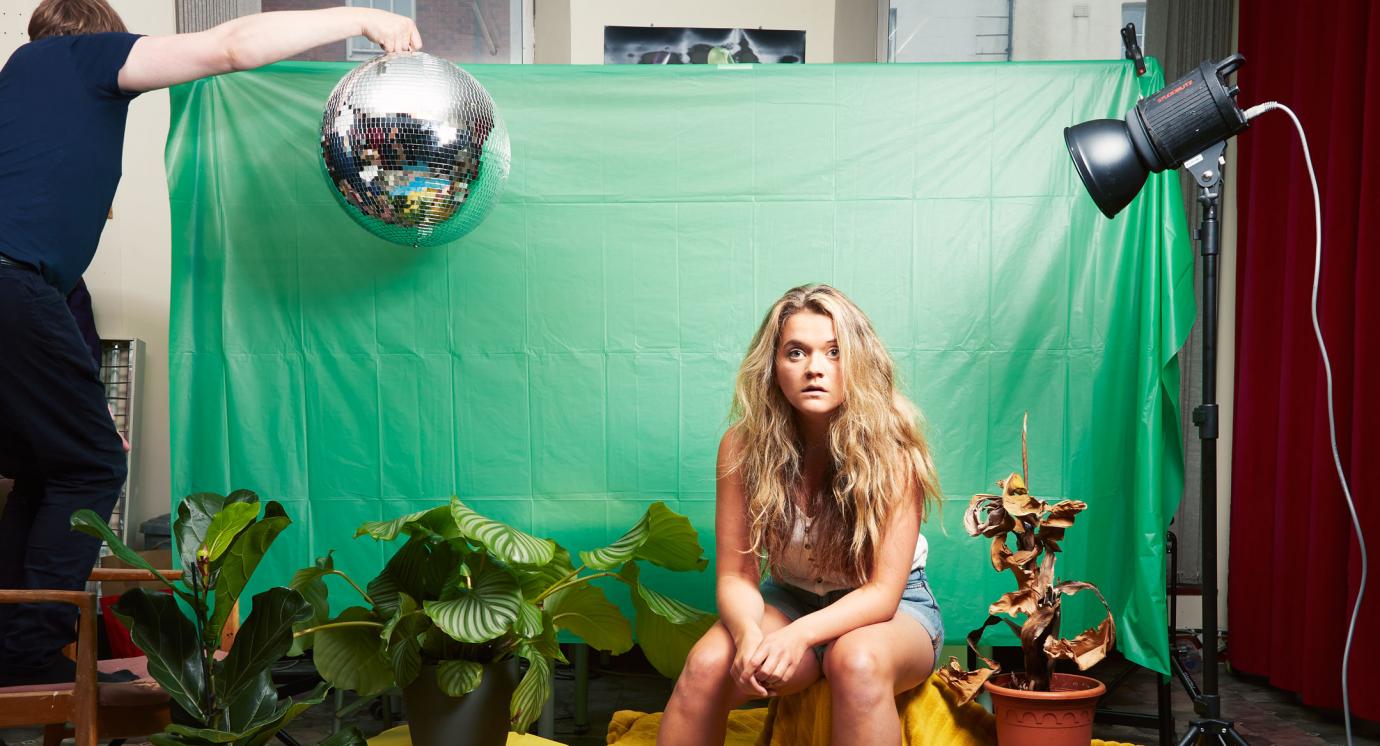 10 August 2020
Dublin Fringe Festival, Fishamble: The New Play Company and Irish Theatre Institute (ITI) are delighted to announce the three pairs of artists taking part in DUETS  2020. DUETS is an artist support initiative made to champion professional artists working in pairs to tell one-of-a-kind stories using the unique combination of their skills. The DUETS artists are supported by the combined expertise of all three partners: dramaturgy and development support from Fishamble, networking and producing know-how from ITI and the creative platform of Dublin Fringe Festival.
The artists selected for DUETS 2020 are Eoghan Carrick & Lauren Shannon Jones, Jane Madden & Sarah Morris and Dan Colley & Fionnuala Gygax. These three exciting new collaborations are currently in development with dramaturgical support from Gavin Kostick. Eoghan Carrick & Lauren Shannon Jones,  Jane Madden & Sarah Morris will premiere their new theatre projects in September 2021 as part of Dublin Fringe Festival. You can find out more about these artists and their work below.
We are thrilled that TWENTY FIFTY by Dan Colley and Fionnuala Gygax have its world premiere next month. Tickets are on sale now for this live digital performance at Dublin Fringe Festival 2020: Pilot Light Edition. Explore the full festival programme here. 
A live improvised game between an actor and an invited guest. Beginning in the form of an intimate interview, they attempt to get to the heart of the question: what would you save from the fire?  
Join us in a virtual space for a visceral gathering. This is an interactive theatre piece that reaches you wherever your Wi-Fi is. A different guest collaborator for each show helps to create this experiment in live theatre for the next normal.  
Let's gather together. Let's squeeze in beside one another. We'll warm our hands on the flames, play games of chance, tell stories of the old world, and see our future in the embers. We'll remember this night.  
TWENTY FIFTY is developed as part of DUETS, an artist support 
initiative from Fishamble: The New Play Company, Irish Theatre Institute (ITI) and Dublin Fringe Festival with the support of Bewleys Café Theatre. Building on ten years' successful partnership the three organisations have joined forces again to support theatre makers in the creation of their own tour-ready productions, providing dramaturgy and development support, networking and producing know-how and the creative platform of an established multi-disciplinary festival.
About the artists:
Lauren Shannon Jones & Eoghan Carrick
Lauren is a writer and theatre maker from Dublin. She wrote and performed Viva Voce in Dublin Fringe Festival 2018, which was nominated for a Fishamble New Writing award. In 2019 she was selected as one of six playwrights to be a part of the Abbey Works initiative, and was a resident Hot Desker at FRINGE LAB 2019/ 2020. She holds an MFA in playwriting from the Lir Academy. Other theatre work includes Grow (produced under The Virgin Eclectic in 2013) The Assassination of Brian Boru (commissioned by The New Theatre under UNESCO in 2014) Pygmankentein's Olympia (an adaptation of E.T.A Hoffmann's Der Sandmann, 2015), Pink Milk (in collaboration with Algorithm Dublin, 2016), and Fetch (Dublin Fringe 2019). Work in print has been published in The Irish Times, The Irish Independent, IMAGE magazine, Banshee literary journal, and by the Rogue collective.
As a theatre maker, Eoghan works in Ireland and internationally, on new and canonical texts, with a focus on innovative interpretations and interdisciplinary collaboration. Since 2018, he has been an associate director with Landmark Productions and Irish National Opera, and from 2015-2019 was associate director with Corn Exchange Theatre Company. Recent directing credits include: Bodies of Water (Dublin Fringe Festival, 2019; Dublin Fringe Best Design Nomination), Midsummer (Project Arts Centre, 2019), Theatre For One (Cork Midsummer Festival, 2019; Irish Time Theatre Awards Nomination for Best Ensemble), INFINITY (Dublin Fringe Festival/Tour, 2018/19; Dublin Fringe First Fortnight Award, Dublin Fringe Best Design Award, Dublin Fringe Best Performer Nomination). Eoghan is on the steering group of the National Campaign for the Arts and a member of IETM, Theatre Forum, Dramaturg Network Ireland and the Irish Society of Stage and Screen Designers. For more info and future projects visit eoghancarrick.com
Sarah Morris & Jane Madden
Sarah graduated from the Lir Academy Of Dramatic Art in 2015, her most recent theatre work includes Venus In Fur at the Project Arts Centre, a Seeds production for Rough Magic theatre Company, The Anvil an Anu Production for Manchester International festival, Torch, an Anu productions co-production with Heart of Glass UK; The Lost O'Casey (Winner of the 'Best Actress Award' The Irish Times Theatre awards 2018) Anu productions co-production with The Abbey theatre for Dublin Theatre Festival; CLASS (The Bush Theatre London, The Traverse theatre Edinburgh, Edinburgh Fringe First Winners, Dublin Theatre Festival, Galway Arts Festival); Tina's Idea of Fun (Abbey Theatre); The Bells Of (Theatre Upstairs); Lady Play (Scene and Heard Festival Smock Alley); King Lear (Second Age Theatre Company).  Lir Academy productions include Tarry Flynn; The Living Quarters and Pornography. Television work includes Headcases (Pilot for RTE 1), Inspector Jury (Octagon Films for ZDF). Sarah will next appear in the upcoming production of Druid's The Galway Tour.
Jane is a Dublin-based writer who holds an MFA in Playwriting from the Lir Academy of Dramatic Arts. Her play Birdy debuted at the Peacock Theatre in Dublin Fringe Festival 2017, winning Best Ensemble. Her first play The Windstealers, was supported by Fishamble: The New Play Company, debuted at Smock Alley Theatre in Dublin Fringe 2015, was programmed in Irish Repertory Theatre's 2015 Reading Series in NYC, and published in Oberon Press' compendium, Fresh Cuts. TV credits include Fair City. She is a selected participant of PUSH+, a Creative Europe artist development initiative and received the Pavilion Theatre Patron Donation Award 2020. Jane is currently under commission with The Ark; and separately with Dublin Fringe Festival as part of their DUETS scheme in partnership with ITI and Fishamble: The New Play Company. In 2020, she won a Next Generation Artist Award from the Arts Council of Ireland.
Dan Colley & 

Fionnuala Gygax
Dan is a Creative Director and Producer specialising in ensemble-devised theatre, young audiences theatre, comedy, community participation, and outdoor spectacle. He is former Artistic Director of Collapsing Horse and is former Co-Artistic Director of the Kilkenny Cat Laughs festival. He was Producer/ Facilitator of Dublin Fringe's birthday project TWENTY FIRST and is a former Fringe LAB resident artist. Dan trained as a Youth Theatre Facilitator with Youth Theatre Ireland. He is a Member of the Project Arts Centre, is Theatre Artist in Residence with the Riverbank Arts Centre, and is on the Expert Advisory Group of Creative Ireland: Pillar One. For more info and future projects visit dancolley.co
Fionnuala is an actor/ theatre-maker and writer. She is a co-founder of theatre company, Chaos Factory. She was awarded the 'Next Generation Award' by the Arts Council in 2017/ 2018. She is currently a participant on the Pan Pan International Mentorship, mentored by Johanna Freiburg (She She Pop/ Gob Squad). Her play HOSTEL 16 was nominated for the Stewart Parker Award. Fionnuala is interested in making ambitious, contemporary work, which interrogates form and spans across genre. For more info and future projects visit fionnualagygax.com