​​​​​​​Your Art. Your City. Donate to Fringe25
30 July 2019
Dublin Fringe Festival is home to bold ideas, brave performing arts and adventurous audiences. This September, we celebrated our 25th edition the best way we know how – bringing together some of the best artists in Ireland, welcoming the most exciting international acts, and throwing a 16-day party for the city.
We're dreaming and scheming to do more, champion more artists, give you more unforgettable experiences, but we need your help. If you've made work with us, sat in an audience with us, danced till dawn with us, or just love the idea of supporting Irish artists, please donate €25 to our Fringe25 campaign.
For €25, you'll help us:
Support artists making new work in Dublin, by providing free rehearsal and development space in Fringe Lab all-year round.

Support emerging artists with workshops and mentorship opportunities.

Provide a platform for adventurous bold work at Dublin Fringe Festival 2019 and beyond

.
We need 100 people to give us €25 before end of the year to reach our fundraising target for this year.
If you are in a position to give, we would love it you could contribute €25 to our Fringe25 campaign. As a thank you, we will display your name proudly on our website and give you our eternal gratitude! 
Want to donate €50? That's fantastic.
€250 in honour of your 10 favourite Fringe artists? Hey big spender! Even better.
If we can find just 1,000 friends to donate €25, we will reach our goal. Each and every donation helps us provide vital resources to the next generation of Irish artists.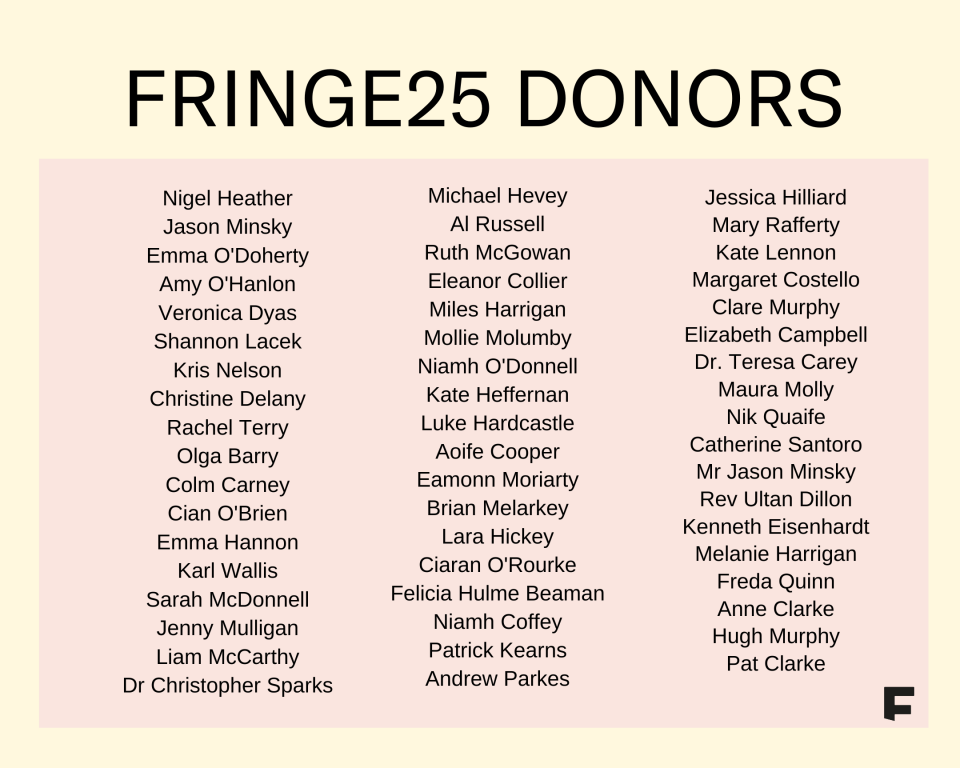 If you would like further information or would like to find out more about Dublin Fringe Festival, please contact Neasa O'Callaghan at neasa@fringefest.com