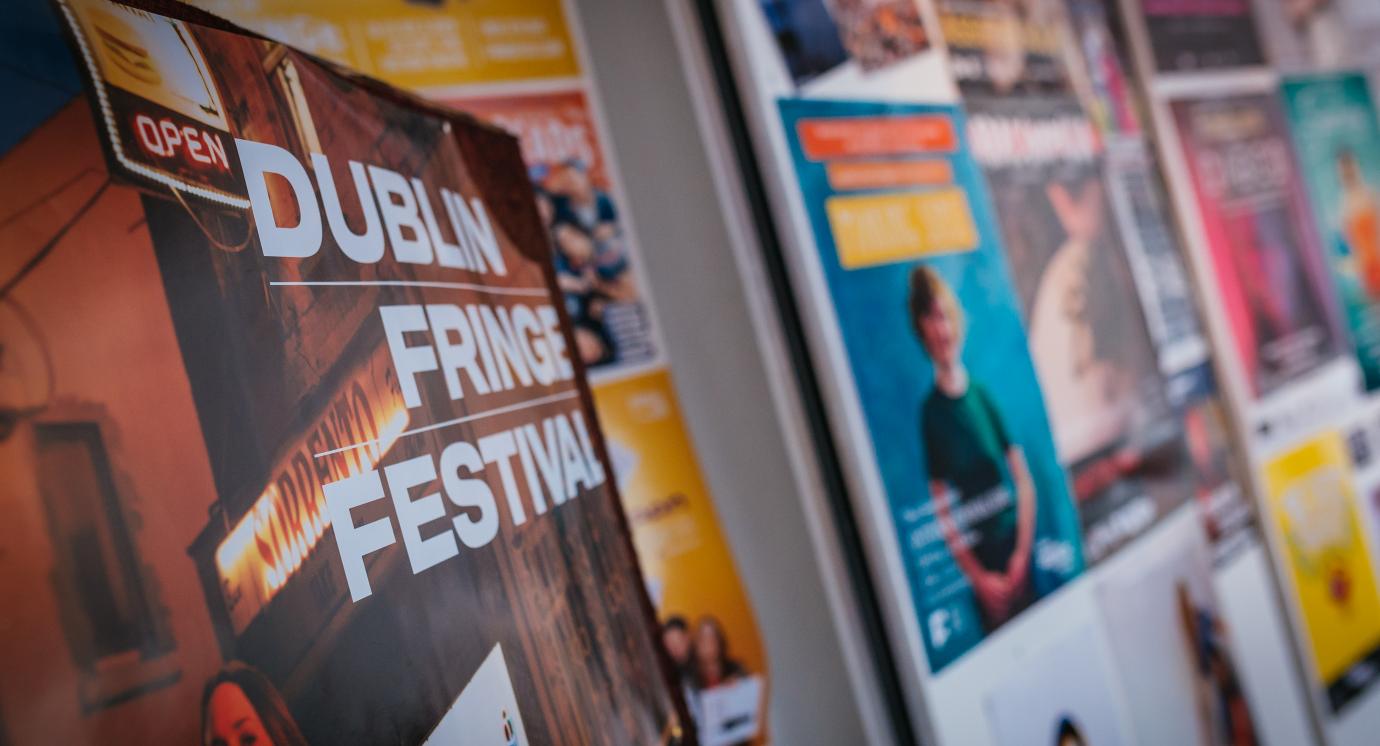 Pan Pan Platform at Dublin Fringe Festival in partnership with AOB Arts Management.
30 July 2019
We are delighted to announce the first edition of the Pan Pan Platform at Dublin Fringe Festival in partnership with AOB Arts Management.  This new initiative connects experienced and emerging producers with exciting artists.
Pan Pan were the associate producer on four Fringe productions in 2018, Unwoman Part III by The Rabble and Maeve Stone, My Dad's Blind by Anna Shiels McNamee, Oneday by Dick Walsh and James Moran and Everything I Do by Zoe Ní Ríordáin.  In 2019 Pan Pan and Dublin Fringe Festival decided to formalise their partnership in pursuit of their shared goal - championing new and innovative performance works.
Two projects preparing for their world premiere at Dublin Fringe Festival this September will receive artistic mentorship from Gavin Quinn and Aedín Cosgrove and producing support from AOB Arts Management's Aisling O'Brien and their Associate Producers Hillary Dziminski and Richie O'Sullivan. The artists and shows that make up the Pan Pan Platform will be revealed at the Dublin Fringe Festival programme launch on July 17th.
"Developing new performance ideas is at the centre of Pan Pan's raison d'être which is born from a desire to be individual and provide innovation in the development of theatre art.  We fully support the emergence of new work from young and innovative artists and are delighted to support the two shows with AOB Art Management at Pan Pan Platform at Dublin Fringe." – Pan Pan
 "I am delighted to mentor such exciting programmed Pan Pan Platform at Fringe artists this summer, I am also excited to mentor two emerging Associate Producers as part of this new initiative. I have long admired Hillary Dziminski and Richie O'Sullivan's work and think they have the potential to become leading independent producers in the future. Through this initiative, Pan Pan and I will support and guide both the makers and emerging producers through the stages of producing a show in Dublin Fringe Festival 2019. I am delighted to partner with such an artist-centred and prestigious company as Pan Pan on this new platform. Watch this space!" Aisling O'Brien, AOB Arts Management.
"It's brilliant to see leading artists like Pan Pan and experienced producers like Aisling O'Brien share their skills and expertise with the next generation of Irish talent. Together, they have chosen a pair of impactful projects from this year's festival programme, made by artists whose work is truly exciting. This initiative will make a timely, meaningful investment in the careers of the selected participants and I look forward to seeing the results at Fringe this September." – Ruth McGowan, Festival Director, Dublin Fringe Festival.
Since Pan Pan was established by co-directors Gavin Quinn and Aedín Cosgrove, the company has constantly examined and challenged the nature of its work.  All the works created are original, either through the writing (original plays) or through the totally unique expression of established writings. Pan Pan tries to approach theatre as an open form of expression and has developed an individual aesthetic that has grown from making performances in a host of different situations and conditions. Pan Pan is committed to presenting performances nationally and internationally and developing links for co-productions and collaborations. The company has toured in Ireland, UK, Europe, USA, Canada, Korea, Australia, New Zealand and China.
AOB Arts Management specialises in cultural producing, project management, artist support and development, and works with some of Ireland's leading creative makers and organisations in Theatre, Dance, and Performance Art.  Emerging producer and self-producing artist development are one of the core objectives of the company, who aim to have mentored approx. 50 new mufti-disciplinary emerging producers working in Ireland over the next five years through a series of bespoke workshops and mentorship schemes. 
This initiative is funded by the Arts Council of Ireland.