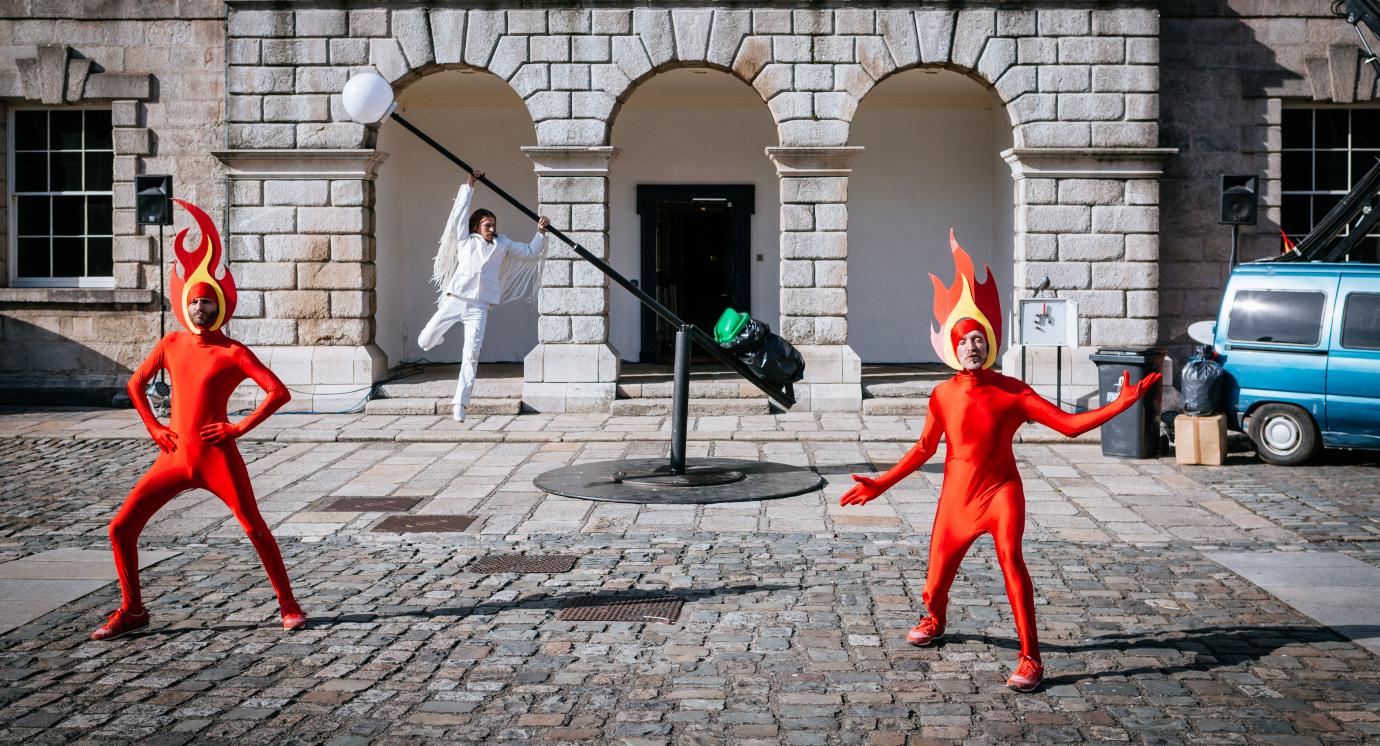 05 June 2020
 We are making a festival 
So much has changed for so many. Like all of you, the last few months have seen our best laid plans unravel, and countless passion projects put on pause. In order to keep everyone safe, the lights went out. Doors were closed, yet to reopen. As you might have guessed, making Dublin Fringe Festival as you know it is impossible this year. In close consultation with artists and collaborators, venues and volunteers, we had no choice but to carefully dismantle our Fringe-as-usual plans and get creative.
We asked some artists what we should do next. 
They said make a festival.
So we are.
It will be a festival of a new kind, fuelled by the low glow of the shining possible. So much is still possible, because artists make it so. 
To emerge from this blackout, we're following the torchlight of their undeniable ideas.
WE HAVE A NEW PLAN
Well, actually a couple of plans. (2020 demands multiple plans. You should see our hard drive).
DUBLIN FRINGE FESTIVAL: PILOT LIGHT EDITION
This September, a constellation of artists will create a series of performance experiments and artistic interventions all over the city. We are inviting visionary artists to forge new pathways to shared experience. These inventive art works will play with form, shake perceptions, and make space for joy. Fringe will find a way to reach you - we're imagining tiny revolutions of connection across multiple mediums. 
We are holding true to Fringe's commitment to innovative approaches and our absolute faith in artists as the thought leaders and soothsayers we need to light the way and define the future. We are giving artists the resources and support they need to work. We are offering audiences the freshest art experiences and amplifying voices that defy the mainstream.
This new festival format will stay devoted to new work, to liveness, to pleasure and to artistic risk. In order to make a futureproof festival for uncertain times, we're summoning our 25 years of festival making experience and learning from our peers, nationally and internationally. We're staying nimble – including a 'Fringe comes to you' option in case we need it.  
FRINGE LAB
Dublin Fringe is about more than what happens inside the Festival dates – it is a whole season of art making together. It's that hum of talent and industry you can feel as hundreds of artists in dozens of rooms across the country work to turn reality in to dreams. We refuse to lose that energy - preparation for the future continues.
We're supporting 50 sets of artists who introduced themselves to us through our open call application process to participate in an expanded FRINGE LAB programme from July to December of this year. We are investing in their practice through mentorship and masterclass opportunities, and in their ideas through residencies and development bursaries, facilitating their work at home or in studio, safely, all over the country. We are doing our part to make sure those precious sparks are kindled, so that their big ambitions are ready to catch fire when the time is right. 
We can't wait to tell you all about them and their brilliant ideas later in the year. But first, we have a festival to make. 
We will see you in September
Mark your calendar. You are invited to spend September 5 – 20 with Dublin Fringe. To reignite, and to blaze a trail to somewhere new. 
We'll make this year's festival together with some of the best arts workers, organisations and partners in the country. We are undertaking this work with care, humility, and rigorous adherence to government guidelines. The safety of artists, staff and audiences is paramount in every decision we make.  
This act of reimagining would be impossible without the unwavering support of our core funders, the Arts Council and Dublin City Council and our principal patron, Ballymore. They've backed our belief in Irish artists every step of the way. 
In August we will announce the programme for Dublin Fringe Festival 2020: Pilot Light Edition. 
Hope and courage. 
Keep her lit.
 -  Ruth McGowan, Festival Director