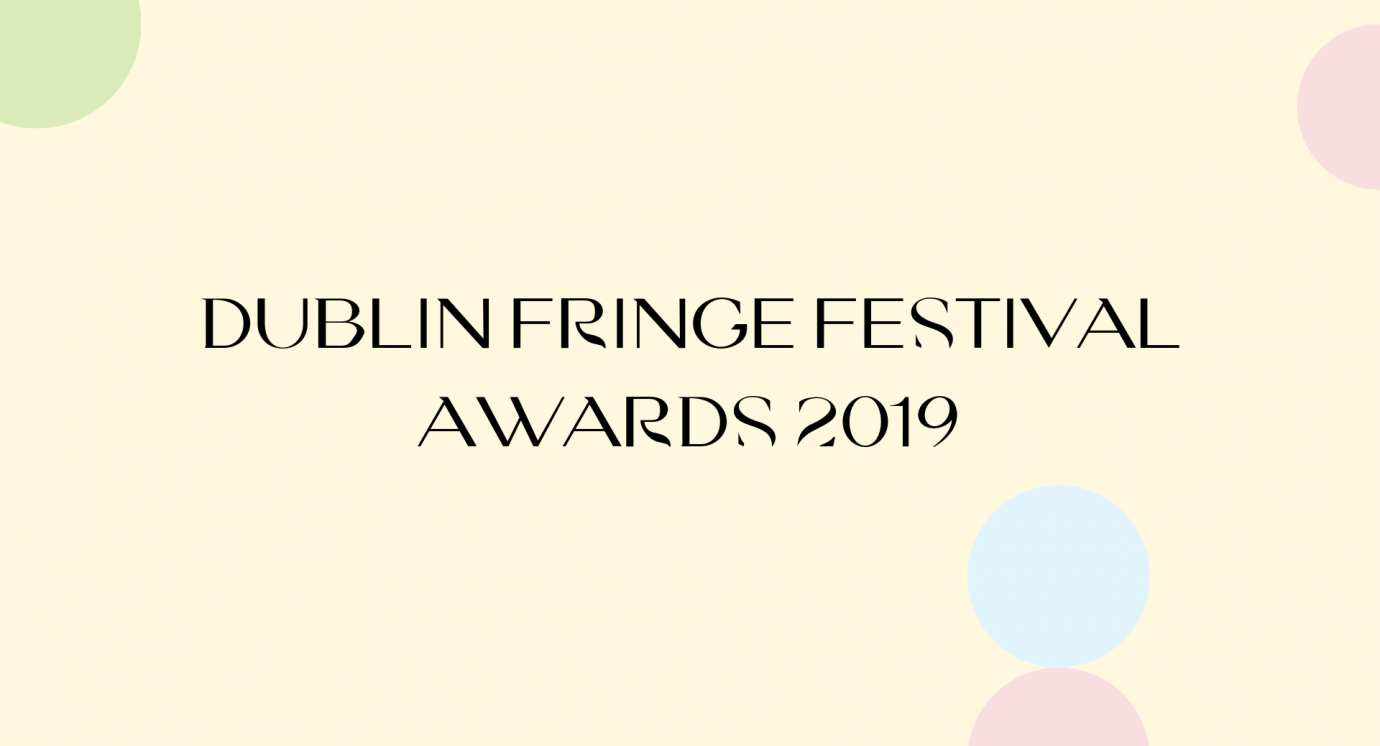 DUBLIN FRINGE FESTIVAL AWARDS 2019
21 September 2019
DUBLIN FRINGE FESTIVAL AWARDS 2019
Join us at the Fringe Awards in Whelan's on Sunday 22nd September at 8pm to raise a toast to the hundreds of bold and inspiring artists whose work has moved us, made us laugh and taken our breath away at this years festival.
Our panel of judges will make nominations and present 18 awards that recognise just some of the extraordinary skill and talent on display, acknowledging some of the stand-outs in this year's festival. You can read more about our panel of judges here. They will announce the nominees on the Fringe website late on Saturday night.
Everyone is invited to enjoy the last dance of the 2019 festival with the fabulous DJ Pixie Woo and complimentary drinks from our festival partners O' Hara's Beer and Wilde Irish Gin. Doors open at 7:30pm with awards at 8pm and dancing til late.
NEW FOR 2019
This year we're proud to add three new awards to our list of categories:
The London Launchpad Award
Co-presented by London Irish Centre and Dublin Fringe Festival with the support of Ballymore and Culture Ireland, this award offers an opportunity for exciting Irish artists to present their work in London at the new home of the English National Ballet in 2020.
The Wilde Courage Award
Celebrating bold artistic journeys. The winner of this €1000 cash prize will be the creator of a brave, one-of a-kind project that evidences a singular artistic vision. Wilde Irish Gin, supporting the courage to create.
Creative Thinking: An award from the Abbey Theatre and Dublin Fringe Festival
This award rewards an emerging artist of extraordinary promise with five weeks of time, space and money to do some creative thinking. Over these five weeks, at a time of their own choosing, the recipient will receive €3000, a desk-space at Fringe HQ and scheduled meetings and support from the creative teams at the Abbey Theatre and Dublin Fringe Festival.
AWARD CATEGORIES
Best Production For the show that has it all!
Best Design Outstanding lighting, sound, scenic, projection, costume or overall design.
Best Performers Two of this year's brightest stars will take home this accolade.
Best Ensemble The standout ensemble – the heartbeat of a show.
Judges' Choice Awards Three awards to acknowledge something that defies categorisation but must be recognised for its brilliance.
Fishamble New Writing Award Awarded to an emerging Irish (or Ireland based) writer for a new play. The award includes dramaturgical support by Fishamble: The New Play Company.
First Fortnight Award The winner will be invited to perform at the First Fortnight Festival in January 2020. First Fortnight's mission is mental health awareness, challenging prejudice and ending stigma.
Next Stage Wild Card A bursary to be part of the Next Stage at Dublin Theatre Festival with Theatre Forum.
Bewley's Café Theatre Little Gem Award The most exciting show that's under 60 minutes with a handsome prize: a two-week run at Bewley's Café Theatre and €2,000 for the remount.
Spirit of Wit: Moira Brady Averill Award A unique award for an artist willing to take risks and whose work defies categorisation with bold and unconventional material. In memory of Moira Brady Averill, who had the power to transform space and thought through alchemical wit. The award comes with a monetary prize and framed illustration by artist Walker Mettling. 
Outburst Queer Fringe Award: Outburst Queer Arts Festival is Belfast's annual explosion of fierce new queer performance, film, theatre, art activism and creative ideas from all over the world. The winner of this award will be invited to bring their work to Belfast as part of the programme this November.
Radical Spirit Award (Formerly known as Spirit of Fringe/ Spirit of Project): Co-presented by Dublin Fringe Festival and Project Arts Centre, this €5000 commissioning award is for an Irish artist dedicated to making bold, contemporary work which embodies the radical spirit of both Fringe and Project.