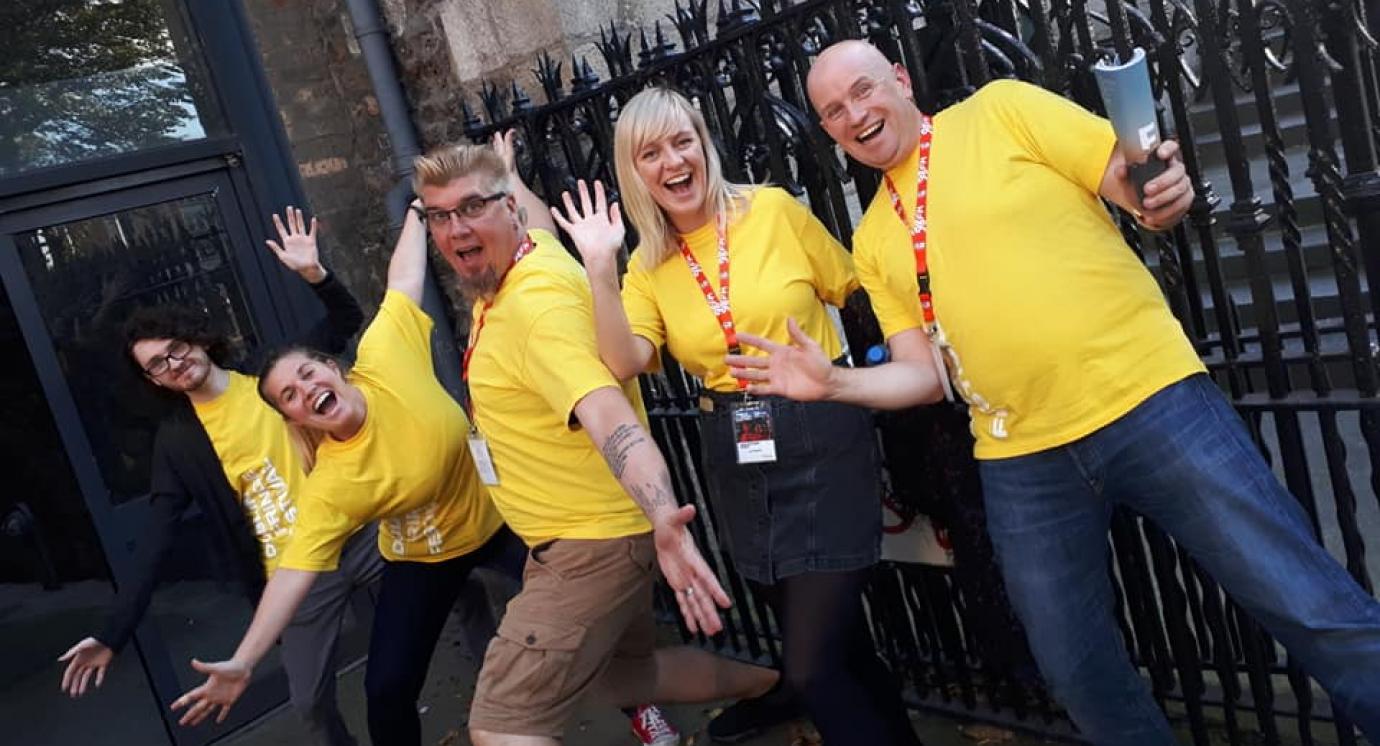 Become a Dublin Fringe Fest Volunteer in 2019!
29 July 2019
I'VE PUT A SPELL ON YOU…WHEN WILL WE THREE MEET AGAIN?… IN SEPTEMBER IN DUBLIN...DURING FRINGE...
Each September from platform 9 ¾ of the four provinces an army of volunteering inventors & mavericks, vocal feminists and aspiring performing giants rally as a coven from the Ministry of The Performing Arts to cast the spell of FRINGE upon the city and its muggle public.
Our Volunteer warriors and crusaders now well ingrained into the Festival Folklore– their passion and spirit are as infectious and fresh to first time performers, artists, producers and writers as when it first started back 1990's– with their selfless commitment lending itself to the festival to showcase the best in new Irish talent and inviting over the most innovative and creative International Acts that The Arts Scene has to offer.  #FRINGEriumLeviosa
The Order Of The FRINGE: Volunteers like artists illuminate the otherwise invisible. They lend themselves as vessels for creative vision, they rally together to protect the sanctity of Art and journey with the audience seeking answers and voice to radical artworks and outcomes, challenging questions and adversity as well as lols and bants in far of places and quiet back rooms, mainstages and spotlights, the quiet and the brash. Volunteering and FRINGE combined becomes power: seizing it, sharing it, speaking truth to it is what each volunteer and ambassador to the art of performance permeates.
FRINGE Sequels & Second Comings: long exposure to such fellowships and chamber of festival secrets may lead one to becoming, as our Grand High Witch has predicted, ' true originals, philosopher kings, witches, feminist giants, buzzers, upstarts and luminaries-in-waiting'.  These outwardly spells and conjurings of artistic emotion and inclusion are not to be frowned upon but nurtured so they can step in and carry on the legacy. Volunteering is not a disease – it is advantageous addiction that stokes the artistic game changer in all of us.
Along with these manifestations and fantastical beasts of provocation & activism to come, why not volunteer with us, we have positions as interns, supervisors, Front of House & Ticketing Volunteers, Office Admin & Production as well as Outdoor Marshalls & Street Team vacancies.
So why not take a chance and volunteer – you never know it could be the beginning of a beautiful friendship with the Performing 'Dark' Arts in Dublin –#TheFellowshipOfFRINGE
How To Become A Volunteer 'FRINGE' Heretic This Festival
Simply complete the Volunteers application pledge here and email it back to this Mama Minerva McGonagall by August 18th to be included in our Recruitment Day Coven invite.  Any questions, comments or queries please do not hesitate to contact this Festival Volunteer Skesis – Mother FRINGE at volunteers@fringefest.com
Shy, Curious or just a Damn Right Inquisitively Hi-jinxer?
Exceling in the 'magic of the dub-arts' but still not sure that you want to say your loyalty out loud just yet – why not come along to our Open Recruitment Call  Coven on Saturday 17th August @ 17:00 in Studio 2 @ FRINGE Lab.  You can find hear all about our Festival Volunteering Family's secret from why it just works and why our Annual Bake Off #SoggyBottomsUnite is the most sought after competitive event of the festival and why you should just embrace that volunteering itch. #VolunteerCultureIsCulture
 Deadline for completed applications is Friday August 23rd 2019, 5pm sharp.