Hive City Legacy: Dublin Chapter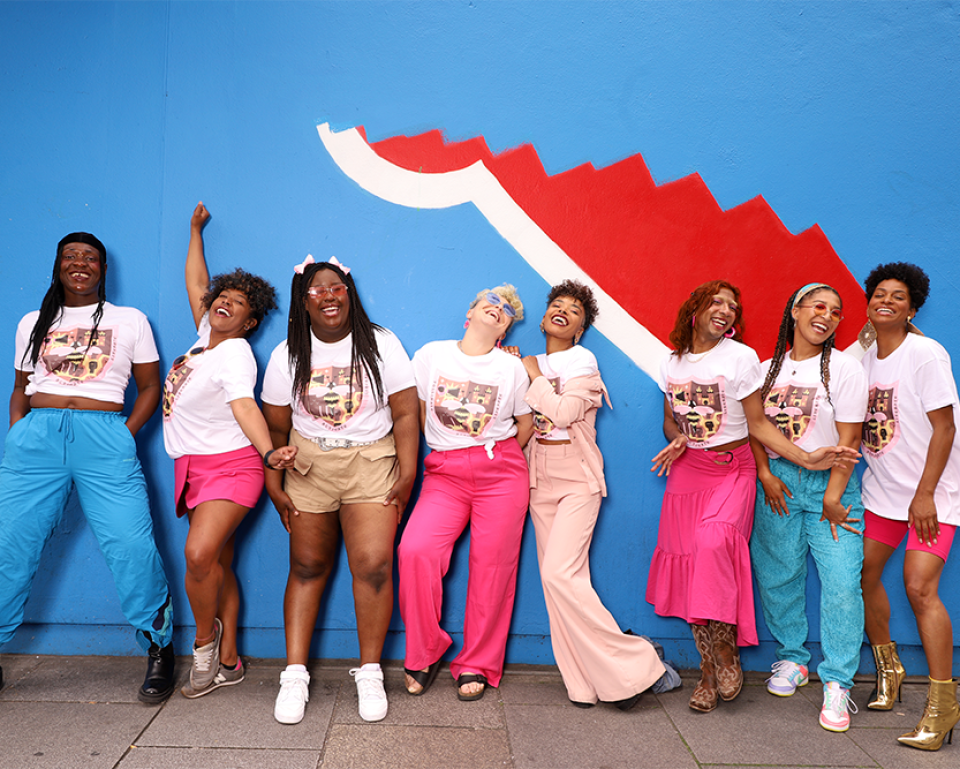 Dublin Fringe Festival, Hot Brown Honey and Quiet Riot present
Lisa Fa'alafi and Busty Beatz of Hot Brown Honey are BACK at Dublin Fringe Festival!
With a mobilised troop of Femmes of Colour who are locked, loaded and ready to take to the stage in this genre-bending, heart-thumping, mind-expanding performance. 
It's time to shift the paradigm, reclaim the narrative and explore what it means to be a Woman of Colour in Ireland through episodes of dance, song, poetry, performance and more. The time is now. 
Are you ready?!
HIVE CITY LEGACY: DUBLIN CHAPTER
A Hot Brown Honey Production
WRITTEN BY 
Lisa Fa'alafi, Kim "Busty Beatz" Bowers, Yami Löfvenberg with the HCL DUBLIN ENSEMBLE           
DIRECTED BY
LISA FA'ALAFI
MUSIC DIRECTION BY
"BUSTY BEATZ" 
ASSISTANT DIRECTOR
YAMI LÖFVENBERG
STARRING
THE HCL DUBLIN ENSEMBLE
Jess Kav as ASCENSION
Alessandra Azevedo as MOONHA
Ozaro Azams as THE SONIC BOOM
Deborah Dickenson THE CHARMING RIOT
Shauna Harris as THE SHOWSTOPPER
Venus Patel as VENUS
Tatiana Santos as TATI INNA DI GHETTO
Andrea Williams as STORM
CHOREOGRAPHY
Lisa Fa'alafi and Yami Löfvenberg with the HCL DUBLIN ENSEMBLE
ORIGINAL COMPOSITION 
Kim "Busty Beatz" Bowers 
The HCL DUBLIN ENSEMBLE
"Joyous Rage"  with additional composition by Aisling Moore
"Ascension"  The X Collective
"Home"  Jess Kav and Debora Dickenson
"Shaking the Shackles" Osaro Azams and Alessandra Azevedo 
with additional composition by Ancestress
"Love for my Sistas" Lady Lash and Kween G
Featuring the voice of Mary Kilduff
Hive City Legacy: London Chapter Ensemble
Hot Brown Honey Ensemble
LIGHTING DESIGN
SJ Sheils
SET DESIGN 
Lian Bell
SOUND DESIGN
Kim "Busty Beatz" Bowers 
COSTUME DESIGN
Zeda The Architect
COSTUME ASSISTANT AND SEAMSTRESS
Ally Colfer
SEAMSTRESS
Izabela's Alterations at Zipyards Swords
PROP REALISER
Mary Kilduff
PRODUCTION MANAGER
Emily Long
STAGE MANAGER
Mary Kilduff
ASSISTANT STAGE MANAGER
Ruby Collin
SOUND ENGINEER
Eóin Murphy
CHIEF LX
Sophie Cassidy 
CREW & SET ASSISTANT
Conor Kelly 
SET CONSTRUCTION
Stephen Bourke
ASSISTANT SET AND LIGHTING 
Ayesha Syeddah
ASSISTANT SOUND 
Aisling Moore
SOUND ENGINEERING 
Hannah Owens
Adelina Ryan
From Sound Training College
Adam Shanahan
My Fault Music
HCL CREST DESIGN
Grace Enemaku 
HOT BROWN HONEY PRODUCTIONS ARE PRODUCED WORLDWIDE BY QUIET RIOT
Executive Producer Linda Catalano
In partnership with Kim "Busty Beatz" Bowers and Lisa Fa'alafi
Produced by Dublin Fringe Festival in partnership with Hot Brown Honey and Quiet Riot. Supported by CoisCéim Dance Theatre. 
This project is part of Weft, proudly funded by the Arts Council/An Chomhaírle Ealaíon through the Open Call initiative for 2021.
Preview
9 & 10 September
18:15, €14
Performances   
11 - 17 September
18:15, €18/€16
Venue
Project Arts Centre - Space Upstairs