Destiny: Divination - Exhibition & Opening Party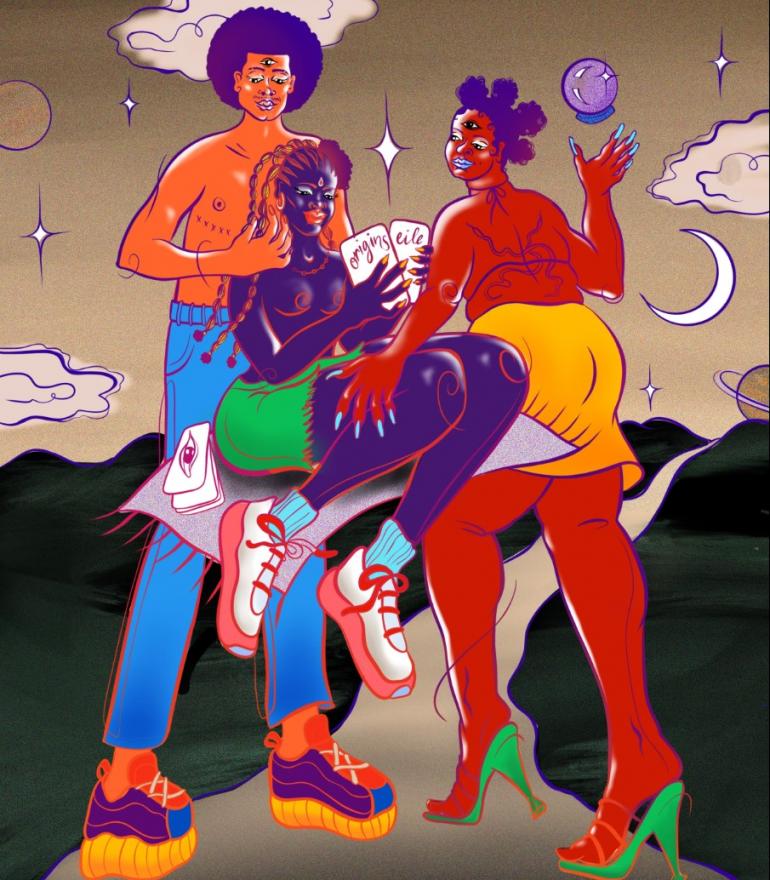 Outer Space: Divination
Origins Eile (OE) present a multi-media collection of Queer Afrofuturist creative work in a re-envisioned virtual 'gallery' space. Join us for our virtual exhibition launch, featuring work curated through an open submissions process, a video essay reflecting on the central theme, and live DJ sets by Batti Mamzelle - a DJ collective focused on making space for Queer folx in Trinidad & Tobago.
Cosmic Creation | Celestial Celebration | Collage
This event is part of Destiny: A Constellation of Queer Afrofuturist Visions, a series of events for Queer Black celestial kinfolk. A four-part decolonial re-imagining that honours a rich ancestry of Black and Queer Afrofuturist visionaries, Origins Eile (OE) invites you to join us as we explore Queerness, Blackness and the cosmos. This programme brings our community on a journey from events that probe the unknown, conceptual, and existential 'outer space' to events that hone in on the more familiar, personal, and intimate 'inner space.' Fellow QTIBPOC time-travellers and shapeshifters, lets come together to traverse the virtual and physical realms and transcend the bounds of white cis hetero capitalist patriarchy to generate new visions of Black Queer transformation and liberation.
Information
A Dublin Fringe Festival Commission.
To attend this event you will need access to a device that is compatible with the online application Twitch and a stable internet connection.
Origins Eile events always centre Queer Black audiences and are for and by them.